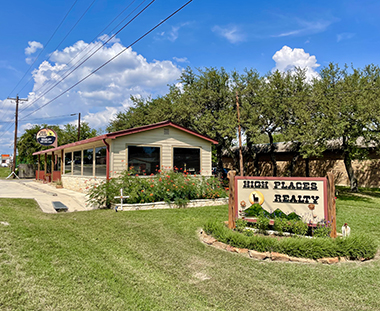 High Places Realty is located in the heart of Leakey, a small, quiet town tucked away in the most picturesque part of the Texas
Hill Country; the Frio River Valley. Leakey sits at the crossroads of US Highway 83 (serving as the "mainstreet" of town) and Ranch Road 337, one of the most scenic drives you'll experience anywhere. Leakey is your gateway to "high places", a rugged land of rimrock canyons, lofty hills clad in oaks and pinyon pines, deep green valleys, tumbling creeks and unlimited possibilities.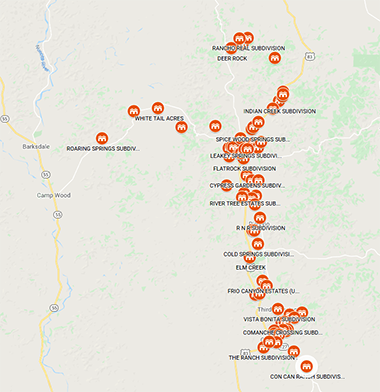 The clear spring-fed Frio River meanders through our beautiful corner of the Hill Country, drawing vacationers, hikers, anglers, nature enthusiasts and artists year round. Many generations have come every summer to spend their vacations tubing the Frio River and kicking back at legendary Garner State Park. Fall and winter months bring the hunters with high expectations of bagging a trophy buck, turkey or Russian Boar. Many exotics have been introduced into the area and are now free roaming.
Any time of the year is a great time to explore the Texas Hill Country, for a weekend or a lifetime. We count it a privilege to be able to help people like you own a part of it.
Click our complimentary map to help you find area subdivisions in Real and Uvalde Counties.